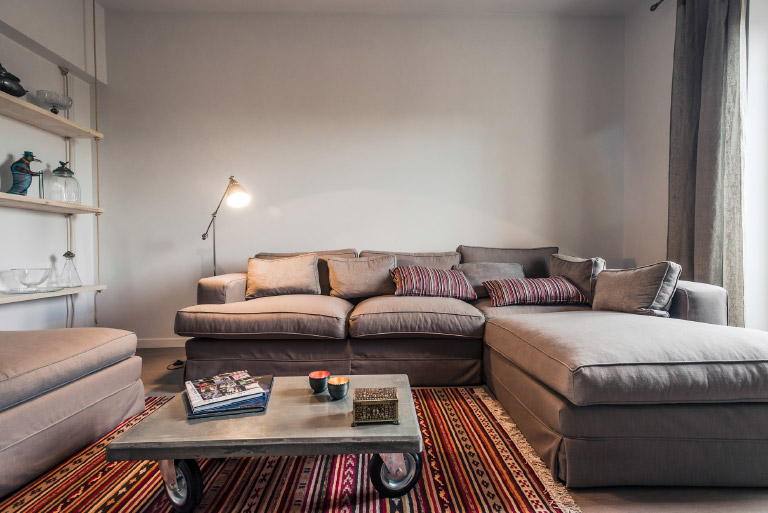 HOME
Amiterno Home is a spacious and elegant 135 m2 apartment, located close to the Colosseum, in a lively area of Rome. It is the perfect place to immerse yourself in the authenticity of the city and have a memorable stay.
It is on the 6th floor of a building with an elevator and hosts up to 8 people. The view is of the stunning Archbasilica of St. John in Lateran.

The guest house has been recently renovated to the highest interior design standards. The modern luxury look and the simple uncluttered lines are the result of the teamwork and co-operation of young professionals, artists and craftsmen from Rome. The attention to detail and the materials used have been carefully chosen to provide our guests with the best hospitality and comfort for a lovely stay.
READ MORE
The apartment consists of the following:
Hallway, three bedrooms, three bathrooms, an open plan kitchen, a modern living room with a sofa bed and two balconies. In addition to high quality furniture, Amiterno Home also has the following electrical appliances: LCD TV, dishwasher, washing machine, refrigerator Class A ++, electric oven, hair dryer and Nespresso coffee machine.

It is a spacious, relaxing, bright apartment located in a quiet '50s building providing cool temperature in summer. All the rooms are provided with heating and air conditioning.
Also available for our guests: air conditioning, free wi-fi, safe, iron and ironing board, linen (for bathrooms, bedrooms and kitchens), maps, connections with restaurants and customized tips based on your interests.

Services on request: daily cleaning - daily change of bed linens and sheets - bath kit - transfers from/to the airport/train stations - chauffeur - guided tours - newspapers and magazines.
CLOSE
Rooms
The rooms reveal an eclectic style with a harmonious fusion of contemporary and traditional details.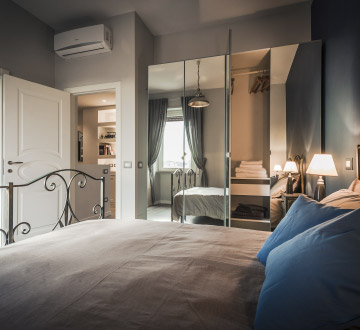 Double bedroom with a spacious wardrobe, ensuite bathroom with double sink and shower. The dominant color that embellishes the fabrics, the main wall and the geometry of the bathroom is blue.

The bathroom is fully coated in resin, ductile and hygienic material that brings uniqueness and originality.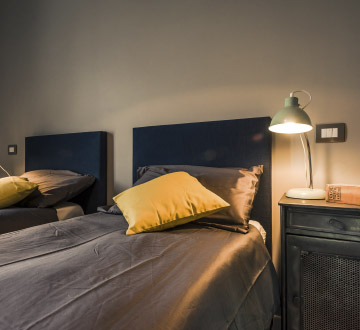 The room decorated with industrial lamps and bedside tables, has two beds that can be converted into a double bed, a four door wardrobe and access to a small balcony with a beautiful view of the Archbasilica of St. John.
Location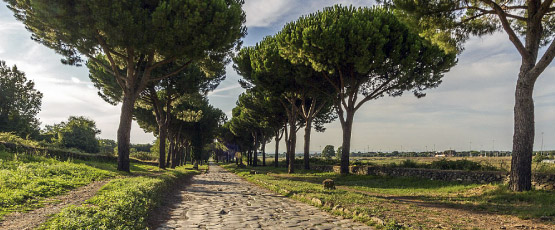 Monuments
Colosseum
The Aurelian walls
Villa Celimontana
Church of Santa Maria in Domnica
The Baths of Caracalla
Appian Way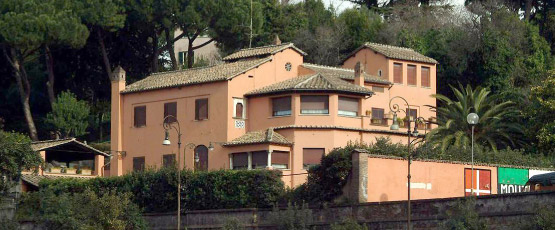 Curiosity & Relax
Via Sannio Flea Market
Metronio Indoor Market and Garage
Alberto Sordi's Villa
Labour Day Concert
Caffarella Park
San Giovanni neighborhood
Amiterno Home is located in the heart of San Giovanni, the area that encompasses a vast metropolitan area, located between the neighborhoods of Monti, the Esquiline and the Appio Latino.

The center of our neighborhood is the Papal Archbasilica of St. John in the Lateran. This is the cathedral church of the Diocese of Rome and the official ecclesiastical seat of the Bishop of Rome, the Pope. Another epicenter is the nearby Via Appia 'Regina viarum', which starts right from Porta San Giovanni through the Aurelian walls, with its wide choice of shops, bars, restaurants, pizzerias, wine bars, supermarkets and book shops where guests can go shopping.

Amongst the most important monuments in the area, you can admire the Baptistry of Saint John, the Scala Santa, the Basilica of Saint Clemente and Saint Quattro Coronati Basilica. You don't want to miss the The Basilica of the Holy Cross in Jerusalem, this is where the relics of the Passion of Jesus Christ was brought to in Rome from the Holy Land and opposite to it is the Colosseum: the most visited monument in the world!

The flea market in Via Sannio, open every day except on Sundays, is a very old and characteristic market, similar to the well-known Sunday Market in Porta Portese. The neighborhood is very well connected with the city center, airports and train stations by metro (lines A and C) and surface transit (buses and trams). Metro Line A: San Giovanni, 400 meters. The apartment is 5 min away Metro Line A: Re di Roma, 500 meters. The apartment is 5 min away
DISTANCE FROM THE MAIN MONUMENTS
Metro Linea A: San Giovanni, 400 mt, 5 min walking distance
Metro Linea A: Re di Roma, 500 mt, 6 min walking distance
The Archbasilica of St. John in Lateran 0.6 km, 8 min walking distance
The Aurelian Walls and Porta San Giovanni 0.4 km, 6 min walking distance
The Basilica of the Holy Cross in Jerusalem 1 km, 14 min walking distance
The Baths of Caracalla 1.4 km, 17 min walking distance
The Basilica of San Clemente 1.5 km, 19 min walking distance
The Coliseum 2 km, 20 min walking distance
Piazza Venezia 3 km, 30 min walking distance
Trevi Fountain 3.5 km, 40 min walking distance
Largo di torre Argentina 3.7 km
Spanish Steps 4 km
Piazza Navona 4 km
Piazza Santa Maria in Trastevere 4 km
Piazza Trilussa 4 km
Porta Portese 4 km
Piazza campo de' fiori 4 km
Pantheon 3,8 km
Castel Sant'Angelo 5 km
The Papal Basilica of St. Peter in the Vatican 5.5 km